Headaches can have various causes and identifying their source is vital for effective treatment. Eye strain is a common culprit, but other factors such as dry eye, infections, injuries and diseases can also contribute to headaches. Our comprehensive eye exam can help determine the underlying cause of your headaches and provide targeted solutions.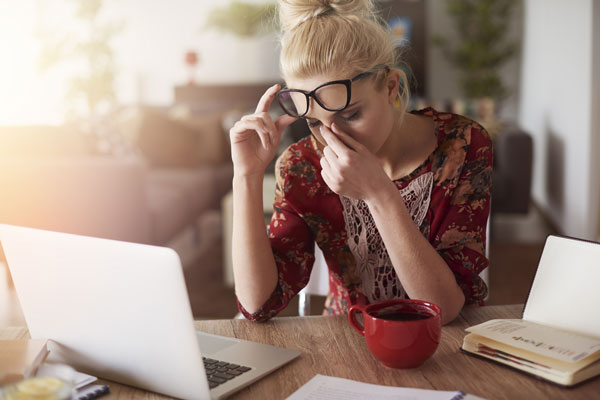 Preventing Eye Strain and Headaches
These simple suggestions can be completed at home and may help relieve headaches:
Take Breaks: Regularly step away from computer and phone screens to give your eyes a rest and reduce eye strain.
Hydration: Stay properly hydrated by drinking enough water. Infusing fruit or using drink flavor packets can make water more enjoyable.
Getting Adequate Sleep: Sleep relieves stress, which can help reduce the risk of headaches.
Posture: Maintain good posture while sitting to alleviate strain on your neck and eye muscles.
Balanced Diet: Consume well-balanced meals rich in healthy fats and zinc-enriched vegetables to support overall eye health.
Stay Active: Engage in activities you enjoy to promote blood circulation and relieve tension in the body.
Eye Exam: Schedule an eye exam to identify any underlying health conditions and ensure your prescription is up to date.
Relief from frequent headaches is possible through our specialized medical eye care. Do not let headaches disrupt your daily life—schedule an appointment with our optometrist, Dr. Reed Gibb, today at Red Cliffs Eye Center by calling 435-634-0420. Discover the underlying causes of your headaches and explore effective treatment options in St. George and Garfield County, Utah, and Ely and Lincoln City, Nevada.