Approximately 25 percent of visits to the eye doctor are because of dry eye disease. Recognizing the symptoms and seeking proper treatment is important for managing this condition and at Red Cliffs Eye Center, Dr. Reed Gibb is happy to help.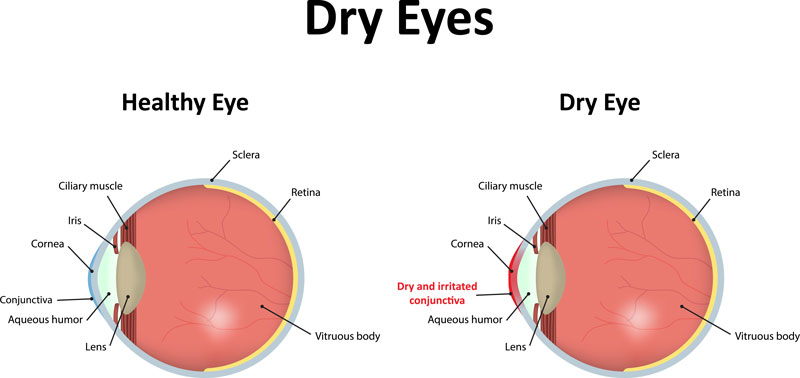 Symptoms of Dry Eye Disease
Irritation and discomfort: Dry, scratchy, red eyes are common symptoms of dry eye disease, often accompanied by a burning sensation.
Tear-related issues: Excessive tearing or insufficient tears with improper chemical composition can occur.
Vision problems: Blurred or fluctuating vision may be experienced, along with a feeling of something in the eyes.
Causes and Progression
Insufficient tear production: Dry eye occurs when your eyes don't produce enough tears or produce tears with an inadequate chemical composition.
Age and gender: Dry eye is more prevalent as we age, with women being more susceptible.
Triggers: Activities like reading or computer work, along with air movement that increases evaporation, can worsen dry eye symptoms.
Innovative Testing and Treatment
Ocular inflammation evaluation: The introduction of InflammaDry® test enables quick identification of ocular inflammation, a key factor in about half of dry eye disease cases. This test helps medications like Restasis or Xiidra are necessary for treatment and if they effectively control inflammation.
Importance of early treatment: Timely intervention is crucial, as inflammatory dry eye can lead to progressive damage of tear-producing cells and severe discomfort during activities like reading.
Targeted treatment strategies: We provide accurate diagnosis and personalized treatment plans to repair damage, improve comfort and enhance vision clarity.
Seek Professional Help
Do not endure unnecessary suffering when effective treatment options are available. Our skilled optometrist can diagnose the specific causes of your dry eye condition and implement tailored interventions. Experience greater comfort and clearer vision by scheduling a consultation for dry eye disease in St. George and Garfield County, Utah, and Ely and Lincoln City, Nevada. Contact us today at 435-634-0420.